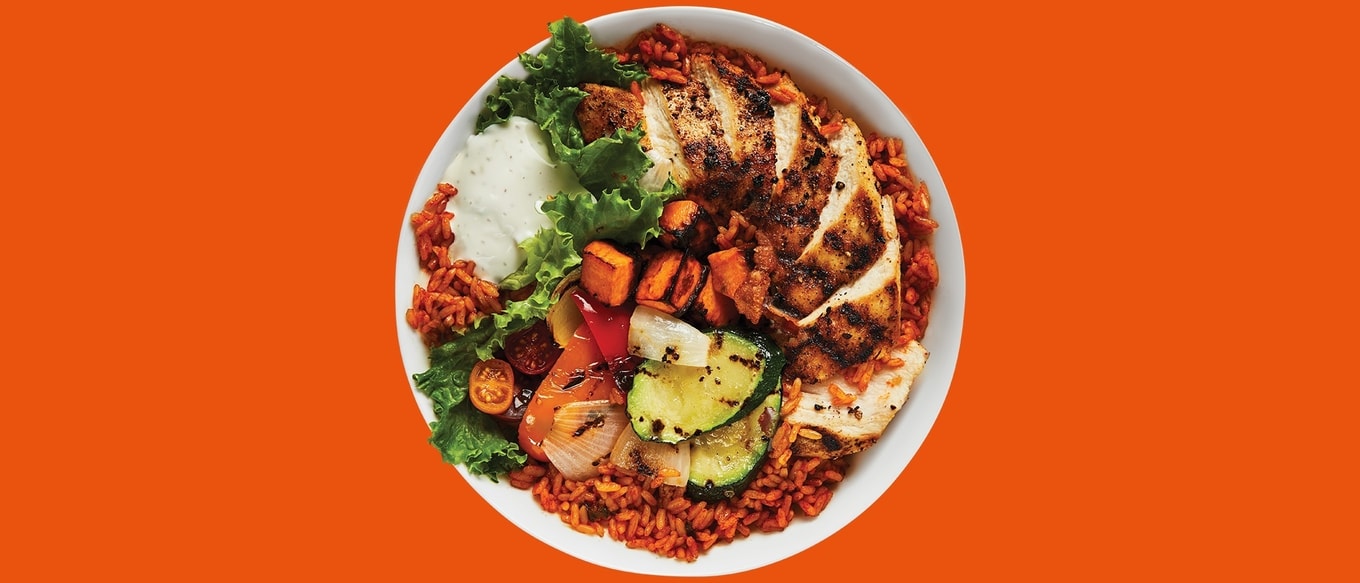 Try this tasty BBQ Chicken Bowl, perfect for that healthy Lunch or Dinner time occasion. Perfect with our Mexican Style rice!
INGREDIENTS
2 x Ben's Original™ Mexican Style Microwave Rice 250g
1 tbsp Vegetable oil
4 cups of mixed vegetables: capsicum, onions, mushrooms, zucchini, pumpkin cut into 2.5 cm pieces
2 Chicken breasts, skinless (500 g)
1 rasher of bacon
100 g cherry tomatoes
3 tbsp Ranch dressing
Lettuce to serve
INSTRUCTION
1

Preheat BBQ to medium. In a large bowl, add oil and vegetables and toss to coat (season to taste). Transfer to a baking pan or directly onto a grill plate. Place on BBQ and cook for 15 minutes, stirring occasionally until tender crisp.

2

Place chicken breasts on BBQ (brush with oil and season with salt and pepper if desired). Grill until browned and cooked through, turning halfway, about 15 minutes. Cook bacon on BBQ grill until crisp. Break into small pieces.

3

Place contents of Ben's Original™ Mexican Style Rice in a baking pan and add ¼ cup water. Cover tightly with alfoil. Place on top rack of BBQ and cook for 15 minutes or until heated through.

4

To serve: divide Ben's Original™ Mexican Style rice between 4 bowls. Top with grilled vegetables and chicken breast. Divide bacon, tomatoes and lettuce between each bowl and drizzle with the ranch dressing. Enjoy!
NUTRITION
AMOUNT PER SERVING
Protein (g) 37
Carbohydrates (g) 43.7
Total Sugars (g) 5.9
Total Fat (g) 18
Saturated Fat (g) 3
Sodium (mg) 583
Energy (kJ) 2067